FAQ
We will add new items as they come in and let you know on Twitter (@plastics_en).
I cannot download RAR/CBR files from Google Drive (They're grayed out and NOT selectable)
We think that this is because of a problem (or possibly a spec change) in the Document Provider Extension of Google Drive app (Version 4.14.161011 as of this item is written), for the following reasons;
The problem is NOT seen with Document Provider Extension from other services (e.g. Dropbox, Amazon Drive)
The problem is NOT seen in the Google Drive app itself (It is seen only when it is called from the other app via the Extension)
We have reported about the problem to Google. We are also considering a way to access the files without relying on the Document Provider Extensions.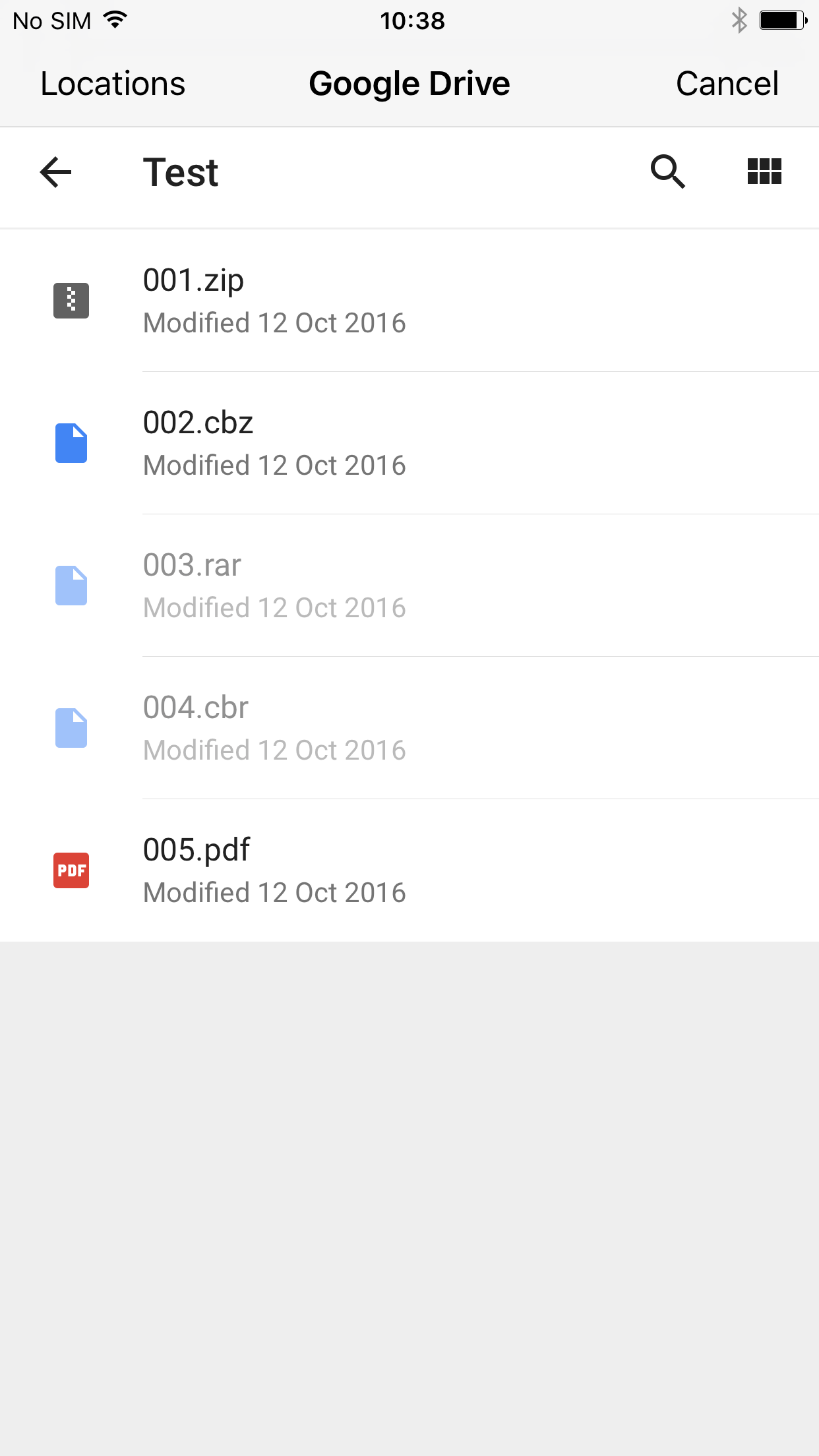 Document Provider Extension: A feature of iOS which enables an app to access to files/documents in other apps such as Google Drive, Dropbox, etc. By utilizing the feature, Booklover downloads files 'via' the apps provided by those cloud storage service providers.
What is a DRM-free eBook?
eBooks sold by online bookstores such as Amazon are usually with DRM (Digital Rights Management), which restricts them to be accessed only by their specific applications or devices. However, there are many stores or organizations that sell or publish them with no DRM imposed on them. Those DRM-free eBooks can be viewed freely on any devices or applications as long as they are compatible with the file format of the book. We expect that there will be more and more sellers or publishers who provide such DRM-free eBooks in the future, just like in the music market. With Booklover, you can currently view DRM-free eBooks in PDF format, or ones in CBZ(ZIP)/CBR(RAR) that has sequential image files archived in them.
Can I view a book in ePub format with Booklover?
Not yet with the current version we are afraid.
Can I have status/settings/metadata of my eBooks in Booklover synced among my other devices?
Not yet with the current version we are afraid.
I cannot see the cloud storage service I use when I tapped the Download icon in the Library toolbar.
You need an app provided by your cloud storage service installed on the device to download a book from your cloud storage service in Booklover. For example, if you have your files stored in Dropbox, download and install the Dropbox app from the App Store. Tap the Download icon again after having installed the compatible app. Now you should be able to see the name of the service/app on the list.
I cannot download a file from my cloud storage service.
Currently, a file is first downloaded by the app provided by your cloud storage service (ex. The OneDrive app if you use Microsoft OneDrive). Booklover obtains the file via the app after it has completed the download (Document Provider Extension). Therefore, there are cases where the download is unsuccessful due to a temporary problem with the service, or possibly to an issue with that app. Another common reason for an unsuccessful download is the unstable network conditions at the time. In that case, trying again after some time may resolve the problem.